Artists

Álvaro Cortez — Portugal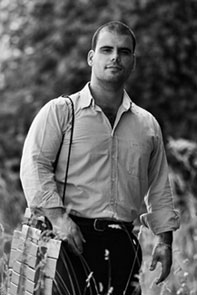 Álvaro Cortez Laurenço Alves was born in Barcelos - Portugal. His musical studies began at the age of 13 in Oliveira Wind Band (Barcelos - Portugal), under the guidance of Alberto Bastos and Samuel Bastos (Oboe).
In the following year, he entered the Calouste Gulbenkian Music Conservatory in Braga- Portugal, having Helena Pereira and Hugo Vieira as teachers. In this academic period, he was selected to join the "Youth National Orchestra" for four years; being the head of section twice. During these years he had the opportunity to work with renowned conductors such as Jacomo Bairos, Garcia Barrios and Nicholas Kok. He was also selected to play solo with the Gulbenkian Orchestra of Braga - Portugal with only 16 years old, and at 17 years he has the pleasure to play the "Concerto for Marimba and String"s by Emmanuel Séjourné with the North Orchestra, beginning his performance as a soloist. He finishes his High School Percussion studies with 20 points (the highest score), being awarded best student's degree in artistic category. In 2011 he entered in the percussion class of Nuno Aroso in Braga.
He worked with Paulo Costa, Nuno Aroso, Pedro Carneiro, Pius Cheung, Teodor Milkov, Marta Klimasara, Daniella Ganeva, Li Biao, Chin Chen Lin, Ludwig Albert, She-e-wu, Mark Brahafart, Gean Geffroy, John Beck, Peter Sadlo, Martin Grubinger, Emmanuel Sejourne, Igor Lesnik among others.
He was awarded in national and international competition, most notably was the 3rd prize in the "Young Musicians Award"; considered by many as the contest with more importance and artistic visibility in Portugal. He also won the 1st prize in the "Concorso Mosicale Europeu," Citta di Filadélfia in Italy; the 2nd prize (without 1st prize) in the "International Marimba Competition Of Greece" sponsored by the world's largest percussion association "PAS" - Percussion Arts Society. In 2016 he was awarded with the 3rd prize (without 1st) on what the press call "Asian ARD" - the "International Jeju Competition" in South Korea. Finally he won the 6th prize on the most important competition for marimba - "Universal Marimba Competition". He also won the Sabian prize for the best interpretation of the competition and the special young talent prize. He was the European soloist for the "European Capital of Youth in 2012".
At the tender age of 24 he already gave masterclass in Portugal and Spain and new educational events are planned in Belgium, France and Germany. Aside that he founded the "Intercontinental Marimba Group" - emsemble that has scheduled concerts around Europe and Asia.
He played at the professional Minho Orchestra (Portugal), Norte Orchestra (Portugal) and Royal Flemish orchestra (Belgium) but now he is working as soloist with orchestras having concerts in Portugal, South Korea and China.