Artists

Aga Winska — Poland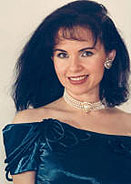 Aga Winska, born in Warsaw (Poland), graduated with Distinction from the Frederic Chopin Music Academy in her native city. While still a student, she made her debut in the role of the Queen of the Night in Mozart's Magic Flute at the Warsaw Chamber Opera. As Poland's top arts student in higher education, she received the prize and scholarship awarded by the Polish Minister of Arts and Culture in 1986.
In 1988, she won the First Prize, the Oratorio Prize and the Alex de Vries special prize (for prominent musical talent) at the Queen Elizabeth International Singing Competition in Brussels, and in 1999 the first prize for operetta at the Gascogne International Singing Competition in France.
She appears as main soloist on the principal European stages in Vienna (Wiener Staatsoper – Theater an der Wien), Stockholm (Drottningholm Theatermuseum), Brussels (Théâtre Royal de la Monnaie), Paris (Le Châtelet), Antwerp (De Vlaamse Opera), as well as in Polish theatres in Szczcin, Krakow and Warsaw (Opera Kameralna, Teatr Wielki). She sings in renowned concert halls in Europe (Antwerp, Barcelona, Berlin, Brussels, Hanover, Luxembourg, Oslo, Bergen), America (USA and Canada) and the Far East (Japan and China).
She has worked with many famous conductors (such as Nicolas Hornoncourt, Arnold Östman, Sylvain Cambreling, Grant Llewellyn, Emil Tchakaroff, Theodor Guschlbauer, Harald Williams, Guido Rumstadt, Edmond Saveniers, Hugues Reiner, Pierre Bartholomée, Patrick Peire and Georges Octors), is regularly invited to the leading European music festivals (Festival van Vlaanderen, Wiener Festwochen, Festival Languedoc-Rousillon, Bergen Festival, Festival de Wallonie, etc), has featured in numerous broadcasts and recordings for radio and television in many countries (Poland, Belgium, France, Luxembourg, Germany, Austria, Sweden, Martinique and China), and has made CD and film recordings.
The artist is endowed with the beautiful and rare type soprano voice known as "dramatic coloratura". Recently she has been singing more and more lyric parts. Her vast, extensive repertoire covers all epochs, styles and forms of music. Aga Winska's special favourite, however, is the romantic period.
During the 2003/2004 season Aga Winska has been much more present on the Belgian music scene. She gave, among others, the cycle of recitals with the Slavonic romantic repertoire, especially prepared for the occasion of the European Union's enlargement to the East. The first concert of the series took place at the Brussels Parliament, next ones in Ecaussines (Château de la Follie), Waterloo, Mouscron, Colfontaine, Glabais and Estaimpuis.
In November 2005 Aga Winska made her stage-direction debut in the Brussels Light Opera Company production of F. Léhar's Merry Widow.