Artists

DAve SChweitzer (DASC) — Belgium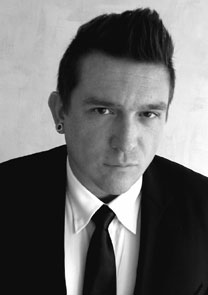 Born in Antwerp on 9 January 1972 from Belgian and French parents, DAve SChweitzer is fed creatively both in Antwerp, Belgium and Provence, France, with the ancestral blood of Nobel prize winner Dr. Albert Schweitzer and French writer and philosopher Jean-Paul Sartre flowing through his veins.
He describes his paintings as "Inner Portraits" of people, places and situations: "It's an abstract way of presenting Reality, the one not visible to the naked eye." He absorbs, like a sponge, the very essence of the people he meets. During the creation of their abstract portraits, this sponge is squeezed gently to give birth to subtle compositions that do not claim to portray the outside of the models, but the inside: the true reality.
Right from the start, in December 2001, DAve SChweitzer caught the attention of art lovers, critics, the media and the man in the street with his conceptual art project called "Positive", paintings made with HIV positive blood. He presented 14 paintings conceived with the blood of HIV+ donors. A 15th painting was made with his own, negative, blood. The message being: can you tell the difference between positive and negative when you look at the paintings? No. Then one should not treat HIV-positive people in any other way. "Don't stigmatize. We are all humans."
The next ten years, SChweitzer continued working and exhibiting, in Belgium and abroad, at times shocking people with some of his creations, but never just for the sake of shocking. When he launched his exhibition "Two Peoples, Two States, One Future", showing a patchwork of ripped Israeli and Palestinian flags, he once again got people's attention. It was a message of peace.
In 2012, DAve SChweitzer realized that he had a serious personal problem: alcohol and drugs had taken over his life and health. Over a period of two years, he had himself checked in at a rehab facility 4 times. Each time getting better, struggling to stay sober, and relapsing once again. During those two years, he never stopped making art, but switched to small ink drawings on paper, the only way to express himself creatively with limited means in the confined space and possibilities of the hospitals he stayed at.
The result is a series of ink drawings, made over a course of 2 years, in and out of the psychiatric hospital, or as he calls it: The Loony Bin. It shows a journey through shame, despair, courage, struggle, sickness, hope, madness and pain, resulting in the sober lifestyle he now leads.
"Drawings from the Loony Bin" is the honest story, in 54 ink drawings, of a man, an artist, who refused to give up and throw his life, and the lives of others, down the drain. It is a proof that a man can turn around his life at any point, if he only puts his mind to it.
DAve SChweitzer has work in private and public collections in a.o. Belgium, France, The Netherlands, The UK, Germany, Italy, Switzerland, the USA, Russia and Japan.
DASC is represented by Love²Arts.