Artists
Jung-Rye Ryu —

South

Korea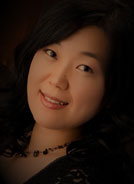 Jung-Rye Ryu started singing at the age of 14. She studied at the Kangnung National University with professor Young-Hee Kim. In 1998, being the best student, she was offered a position in the university's choir. Her first solo recital took place in the Art Hall in 1999.
Since 2001, Jung-Rye Ryu continued her education in Europe and the USA. She studied at the Lucio Capani Conservatory in Mantua, the City Academy in Milano, the Guiseppe Nicolini Conservatory in Vicenza, the Benedetto Marcello Conservatory in Venice and the Oberlin High School in the USA among others.
She studied with renowned singers such as Adriana Cicogna, Gianfranco Brizio, Young-Mi Kim, Luca Gorla, Ardjoena Soerjado, Nicolai Cok, Aelisa Tabiadon, Adrian De Wit, Aga Winska and Michael Aspinall.
She graduated in Vicenza and in Milano.
Jung-Rye Ryu regularly performs as a soloist in Belgium, the Netherlands, South Korea and Italy, and, since 2006, teaches at the Art High School in Pohang, South Korea.