Artists

Katarzyna Miernik — Poland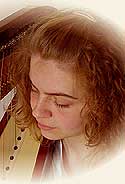 Katarzyna Miernik was born on 5th November 1984 in Warsaw, Poland. She started with private piano lessons at the age of 8. When she was 12, she began her musical education in a primary music school as a harp student with Professor Urszula Mazurek, the dean of Harp Department in the Music Academy of Warsaw, and her assistant Professor Alina Bzhezhinska, and later with Professor Michalina Polubinska.
When she was 15, she continued her harp lessons in secondary music school with Professor Katarzyna Wasiolka-Staniewicz. Her diploma concert was awarded with the highest mark and was followed by her solo recital in a famous concert hall in Warsaw. At the age of 19, she moved to the Netherlands to study in the Conservatory of Maastricht with Professor Masumi Nagasawa.
Katarzyna Miernik performed solo, played chamber music concerts and played with orchestras many times in Poland, the Netherlands and Belgium. She attended several workshops, among them master class of Isabelle Moretti and Susan McDonald.
She played her solo recital on the Polish-German Harp Symposium 2001 (Poland), was a finalist of the Competition for the Performers of Witold Lutoslawski's Compositions 2002 (Poland), received the third prize at the Inter Province Music Competition 2005 (the Netherlands), and performed as a soloist during the Festival "1906 D. Shostakovich/E. Lutyens" (the Netherlands).