Artists

Kiyotaka Izumi — Japan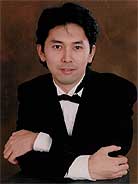 Kiyotaka Izumi was born in 1977 in Tokyo, Japan. He graduated from The Music High School Attached to the Faculty of Music (Tokyo National University of Fine Arts and Music), after which he studied with Professor Levente Kende and Heidi Hendrickx at the Royal Flemish Conservatory of Antwerp, and Professor Boyan Vodenitcharov at the Royal Conservatory of Brussels.
He performed at concerts such as the International Chopin Festival in Ghent and the Royal Gala Concert for the Prince and Princess of Belgium. He played with orchestras such as the National Orchestra of Belgium, Hermes Ensemble, Concert festival Orchestre, and the Orchestra of the Royal Conservatory of Antwerp. He has won several prizes at international competitions, including the Benelux Young Virtuoso competition (1998), the International EPTA Competition for piano-duo, winning also the SABAM-Prize (1999), the International Emmanuel Durlet competition, winning also a special prize for Best interpretation of a work by Emmanuel Durlet (2002), the International Piano Competition Vila de Capdepera, Spain, and special prize for Best interpretation of music by a Balearic Island Composer (2005).
He has performed in master classes for Murray Perahia, Jan Wijn, Jozef De Beenhouwer and Hans Leygraf, and studied privately with Conrad Hansen in Hamburg, Germany.
Kiyotaka Izumi has performed many concerts in Belgium, Netherlands, and Japan.
In 2004 he recorded a CD with works of F. Chopin and E. Durlet.
The duo Kiyotaka Izumi – Polina Chernova was formed in 2004. In January 2005, the duo became the third laureate of the International Maria Yudina competition in Saint-Petersburg, Russia. The duo gives concerts in Belgium, the Netherlands, Luxembourg and Japan.
Since 2005, Kiyotaka is a piano teacher in the Municipal Academy for Music, Word and Dance in Turnhout, and in the Municipal Academy for Music and Word Art in Borgerhout, and accompanist in the Municipal Conservatory of Bruges. He also studies in the Royal Flemish Conservatory (Postgraduate classes Concert Solist).