Artists

Luis Andrade — Portugal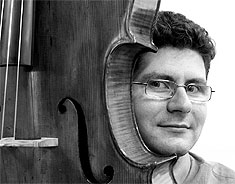 Luis Andrade was born on Madeira Island on the 4th of March 1979 into a family of musicians. At the age of four, he began playing the violin with his mother, and with seven started studying the cello with Agostinho Henriques at the Madeira Conservatory.
In 1995, he went to Kiev (Ukraine) to study with V. S. Tchervov, graduating with Honors in 2001.
Luis studied the cello with Alexander Petrasch at the Maastricht Conservatorium from 2000 to 2004 finishing with honors "Cum Laude". He also had the chance to study solo and chamber music with Alan Weiss, Dirk Verelst, Robert Szreder, Avi Schoenfeld, Radu Aldulesco, Michel Strauss, the Fine Art Quartet and others.
In 2003, Luis Andrade graduated from the National Academy of Music P.I. Tchaikovsky where he studied orchestral conducting with E.V. Duchenko and in 2004 from the Maastricht Conservatory where he studied with Jan Stulen.
As a prize winner in national and international competitions, Luis received the 1st prize at the Portuguese "Jeunesse Musicien" (in 1990, 1992 and 1996), the 2nd prize at the Young Musicians in Portugal (1997), the 2nd prize at the International Young Interpreters Competition in the Ukraine (1999) and the 3rd prize at the Prize Baron Reinout tot Everlo in Cascais - Portugal (1997).
Luis has collaborated in a duet with the Irish accordion player Dermot Dune, with whom he tried to broaden and develop the repertoire for these two instruments by working with different composers and musicians. They were 1st prizewinners of the IV International Accordion Competition "Sanok 2000" in Poland and 3rd prizewinners of the XXXVI International Accordion Competition in Klingenthal, Germany.
He has been a member of several chamber orchestras such as "Archi", "Kamarata", "Collegium Musicum Kiev" and "Madeira Camerata". For 4 years, he was principal cellist of the chamber orchestra at the National Academy of Music P.I. Tchaikovsky, Kiev.
Luis Andrade has collaborated with several musicians and formations in solo and chamber music concerts, and performed in Portugal, Spain, France, Belgium, Holland, Germany, Poland, Ukraine, Byelorussia, Yugoslavia, Ireland and South Korea.
Currently, Luis lives in The Netherlands with his wife, pianist Seong-Hwa Kim.