Artists

Polina Chernova — Russia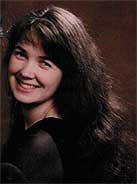 Polina Chernova was born in Alma-Ata, Russia, in 1981 and graduated from Serebryakov Institute of Arts, Volgograd, Russia in 2000. She received the 3rd prize in the all-Russian competition "New names" and played with Volgograd academic symphonic orchestra.
Polina Chernova participated in the festival "The dates of Slavic culture" in the Czech Republic where she received a diploma for the best interpretation of the work of J.S. Bach.
The duo Kiyotaka Izumi – Polina Chernova was formed in 2004. In January 2005 the duo became the 3rd laureate of the "International Maria Yudina competition" in Saint-Petersburg, Russia. The duo gives concerts in Belgium, the Netherlands, Luxembourg and Japan.
Currently, Polina Chernova studies in the Royal Flemish Conservatory of Antwerp (Belgium) with Eliane Rodrigues.