Artists

Sylvia Huang — Belgium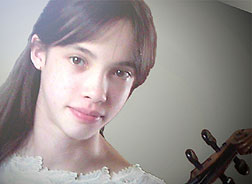 She's neither a phenomenon, nor a child prodigy. Her violin sings with an established sonority, subtle shades, and an utmost expertise. Sylvia Huang is an exceptional talent that needs to be followed....
(La Revue Générale #3, 2005)
Videos
Sylvia Huang playing Paganini's 1st Concerto for violin and orchestra with the Charlemagne Orchestra conducted by Bartholomeus-Henri Van de Velde.
Brussels, January 2005