Artists

Triny — Czech Republic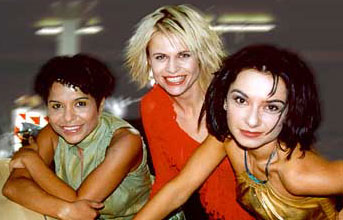 The group Triny was formed in 1999. They perform and prepare original gypsy melodies.
Iveta Kovácová studied at the Prague Conservatory. She performed as a guest with the group Bacily and Naima, and played in the musicals "Hair" and "The Rat Catcher". She is currently a presenter on Czech Television.
Jana Procházková (Tyšerová) graduated from a musicals school. She's a regular guest with Czech and foreign groups and performed in the musicals "The Rat Catcher", "Beauty and the Beast" and "Hamlet".
Dagmar Podkonická graduated from the Prague conservatory. For many years, she was a member of the country group Sally Rose Band. She's performed in musicals such as "Dracula", "Fahrenheit 451" and "The Rat Catcher".
[ website ]