Artists

Yana Tsibulevskaya — Belgium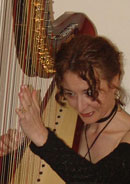 Yana Tsibulevskaya began studying piano at the age of four and entered the Tbilisi Special School of Music at the age of seven. One year later, she started studying harp, and very soon it became obvious that harp would be the instrument for the rest of her live.
In 1980 she was awarded the First Prize at a Republican Contest in Tbilisi, Georgia, and in 1985 she won the First Prize at the Regional Trans-Caucasian Contest in Baku (Azerbaijan).
During the same year, Mrs. Tsibulevskaya moved to Moscow to enter the Tchaikovsky State Conservatory and to master her professional skills in the class of the legendary harpist Professor Vera Dulova. During the next five years, she has appeared in many recitals and concerts all over the USSR, and was a Principal Harpist of the Conservatory Symphony Orchestra.
In 1990 Mrs. Tsibulevskaya relocated to live in Israel, where she was invited to join the Israel National Opera Orchestra. She has also played as a guest harpist with the Israel Chamber Orchestra, Jerusalem Symphony Orchestra, Camerata Jerusalem and others.
She has worked with such conductors as Valery Gergiev, Zubin Metha, Daniel Oren, Garry Bertini, Yoel Levy, Muhai Tang among others. At the same time, Mrs. Tsibulevskaya was actively concertizing as a soloist and chamber musician throughout Israel.
Since 1997 Mrs. Tsibulevskaya resides in Antwerp, Belgium. She is a regular guest harpist with the I Fiamminghi Orchestra (Belgium), Gulbenkian Orchestra (Lisbon), and the Philharmonic Orchestra of The Netherlands (Amsterdam), participating in many concerts and opera performances in the most prestigious concert halls in Europe, as well as in recording projects. She also often appears as a soloist and member of chamber music ensembles.