Artists

Yukiko Imada — Japan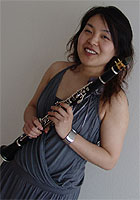 Yukiko Imada was born in Kagawa, Japan. She began to study the clarinet at the age of fifteen with Tateyuki Yamasaki. She studied Music Education at Hiroshima University from 1997, the clarinet as major instrument with Shinsuke Hashimoto and Shogo Higashidani, and graduated with Bachelor Education in 2001. From October 2001 to October 2002, she studied clarinet at Dr. Hoch's Conservatory in Frankfurt am Main with Sven van der Kuip.
From November 2002, she studied bass clarinet and basset horn with Jan Guns at the Royal Flemish Conservatory of Antwerp, and graduated with Master in Music in June 2005. Since October 2005, Yukiko studies postgraduate clarinet courses with Ivo Lybeert and Raymond Dils at the same Conservatory. In addition, she attended master classes with Hiroshi Uchiyama and Pascal Moragues, and now studies clarinet with Prof. Walter Boeykens.
Yukiko Imada has played "Spotlights on the Bass Clarinet" (Jan Haderman) with Concertband De Scheldezonen, "Concert for Basset horn and orchestra" (Carl Stamitz) with the Antwerp Youth Orchestra and "Sinfonia Concertante" (W.A. Mozart) with the Symphony Orchestra Conservatory of Antwerp as a soloist. She has performed as clarinet and basset horn player of Trio Miyabi in Oxford and Antwerp.