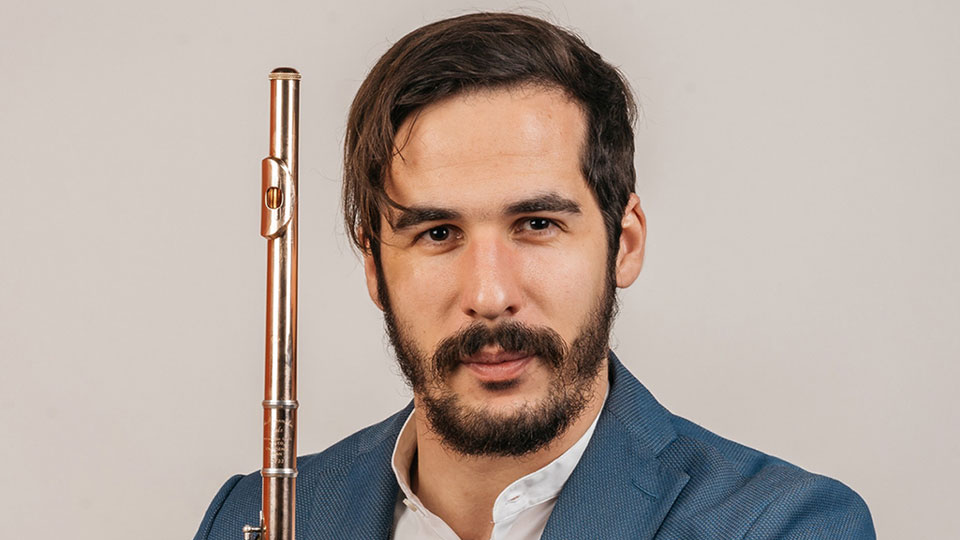 Francisco Barbosa
Born in Braga (Portugal) in 1990, Francisco Barbosa began his musical studies with José Matos. In 2000, he joined the Conservatory of Braga, in João Marinho's and Adriano Sabença's flute class. In 2005, he continued his studies at the Guimarães Academy of Music, in Gil Magalhães' class. He attended masterclasses with Mark Fregnani-Martins, Nuno Inácio, Ana Maria Ribeiro, Reza Najfar, William Bennett and Mauricio Freire, among others.
Francisco collaborated with the National Orchestra of the "Templários", the Orchestra XXI, the Santa Cecilia Orchestra of Madrid, the Orchestra of the District of Braga, the Portuguese Chamber Orchestra and the Lisbon Metropolitan Orchestra.
Between 2008 and 2010, he studied in Vienna with Wolfgang Schulz, Reza Najfar and Hansgeorg Schmeiser. During this period, he also worked with Clare Southworth and Katherine Bryant, and attended Emmanuel Pahud's workshop in the Wiener Konzerthaus.
In 2010, he attended the "Julius Baker Master Classes", where he worked with Sandra Church, Tadeu Coelho and Brad Garner, among others. In 2012 he founded the trio "Sirius Trivium" with which he won the internal competition of chamber music of the Higher Metropolitan Orchestra Academy. He played in various concert rooms and was invited to play at the "Piantón Music Festival" in Spain.
In July 2013, Francisco obtained with distinction the Bachelor degree at the National Superior Academy of Orchestra, in Professor Nuno Inácio's class. In September 2014, he enrolled as student in "Escuela Superior de Música Reina Sofia" in Madrid, with Professor Jacques Zoon. In 2015, he played a Solo Concert tour with the Reina Sofia Camerata, conducted by Hansjorg Schellenberger.
Since 2015, he has been a member of the "Klaue" woodwind quintet. Francisco was also invited to play at the "Santander Music Festival 2016" with soloists Matthias Racz and Pascal Moragues, and composer and conductor Krzysztof Penderecki.
Summer Festival Antwerp 2021
Francisco Barbosa will give flute master classes and will be a jury member of the International Young Talent Music Competition.
Master Classes:
You can apply for a 6-day period (fulltime) or a 3-day period (halftime), which cost 600€ and 300€ respectively. The application fee is 50€.
Music Competition:
Subscribers of the Master Classes may also subscribe to the Music Competition. The application fee for the Music Competition is 100€.