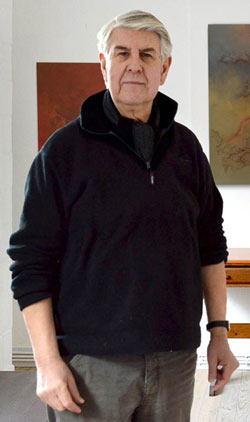 Etienne Geeurickx

Belgium
Biography
Merely playing with light, color, and structure is how Etienne Geeurickx expresses his admiration for nature — his inexhaustible source of inspiration. The artist is fascinated by the combination of the elements of nature: the contrast of the fixed, solid structures on the one hand, and fleetingness and transitoriness on the other; the naturalness with which cold and warm colors intertwine.
The artist has used various techniques and bases in his search for a vivid reproduction of this experience.
Oil paint and acrylic on canvas, cardboard, and wood give (an impression of) relief and the typical flowing color changes. By combining closed structure surfaces with almost open spaces, he gives his work a natural rhythm.
Etienne Geeurickx's style has been described as "lyrically abstract", a poetic view of reality whereby the artist creates his own untrodden, but never inaccessible universe.
Etienne Geeurickx can certainly identify with the words of art critic Marcel Duchâteau:
"Only something which has become a new, independent, and living being through the power of color and shape and the artist's imagination is meaningful in the field of art. This is one of the enduring criteria which are put in a bright light by the rise and development of non-figurative plastic."